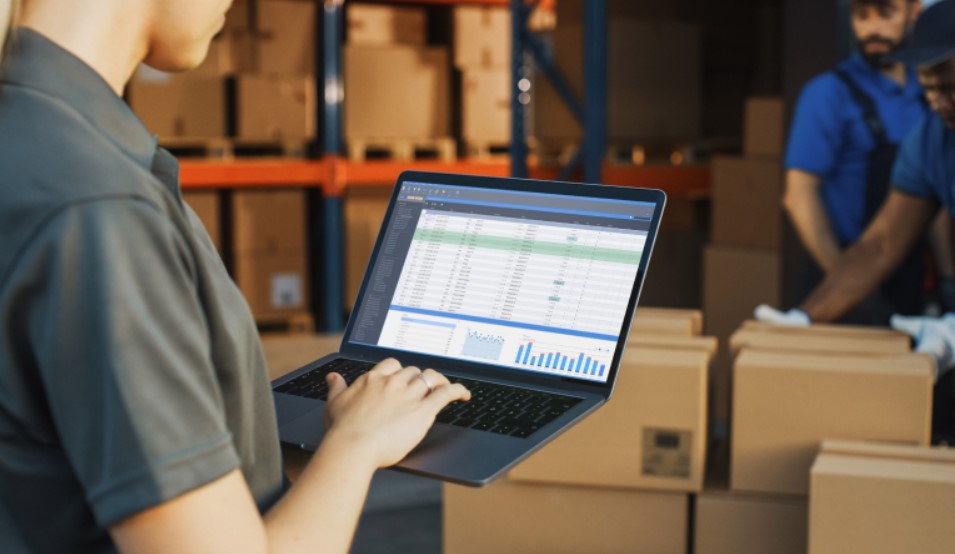 Having dispatch management software simplifies and streamlines your delivery operations. You'll be able to easily monitor each driver's performance and the real-time progress of all shipments and optimize routes for improved efficiency. Plus, you can leverage data collected from the software to help diagnose any issues quickly and accurately. 
The software will also provide detailed insights and analytics to help you make better business decisions. This information can be used to measure the success of your delivery processes, identify any improvements needed, and boost customer satisfaction by providing accurate ETAs. 
What is dispatch software?
Dispatch management software is a program that helps you manage delivery operations. This includes: 
Mapping out routes and assigning drivers:

The software helps you to calculate the optimal route for each delivery, including estimated arrival times. You can also assign each driver their route and track progress in real-time. 

Tracking shipments:

The software records vital information such as time of pick up, distance traveled, delivery time, and so on. This data allows you to monitor the progress of all shipments and ensure they are delivered on time. 

Automating delivery processes

: The software automates the entire dispatch process, from planning routes to tracking deliveries. This allows you to save time, reduce errors, and have a better way to manage your operations. 

Reporting

: The software provides detailed reports to help you monitor performance. This includes data on driver performance, customer satisfaction, and shipment success rates. 
Using dispatch software enables you to save time and money by automating tedious tasks. It also helps you ensure compliance with government regulations, such as the Hours of Service rules for commercial drivers. This software can be tailored to suit your unique business needs and processes, making it easier to stay organized and efficient. 
These are the reasons why it pays to have dispatch software:
1- Automates tedious tasks
The automation capabilities of dispatch software ensure that tasks such as route planning, scheduling, and tracking are done quickly and accurately. This saves you time and money by reducing manual effort. 
2- Optimizes routes
The software can suggest the best route for each delivery based on factors like traffic conditions or distance traveled. This helps you save fuel costs and get shipments to customers faster. 
3- Increased visibility
Real-time tracking makes monitoring your drivers, shipments, and other delivery operations easy. This helps you make better decisions and respond quickly to any problems. 
4- Improved customer service
With dispatch software in place, you can provide accurate ETAs to customers so they can plan their day accordingly. Plus, you can resolve any customer issues quickly with the detailed data collected from the software. 
5- Enhanced driver safety
The software also helps to keep drivers safe. For example, it can alert you if a driver drives too long or takes hazardous routes. This ensures your drivers remain productive and healthy. 
6- Compliance
The software helps to keep your drivers compliant with government regulations. This can help you avoid hefty fines and costly legal action due to non-compliance. Compliance helps to keep your drivers and customers safe, as well. 
Conclusion
By investing in dispatch management software, you can quickly reap the rewards of improved efficiency, increased visibility, and better customer service. So why wait? Investing in a reliable dispatch software
Related Posts